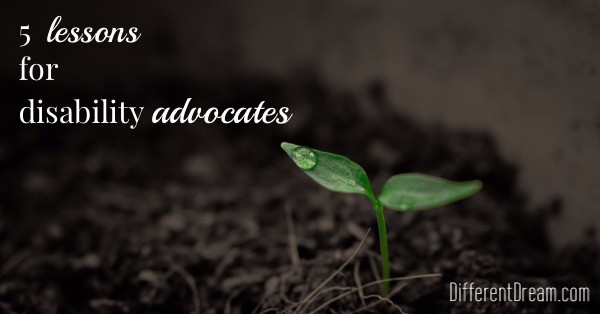 Disability advocates, myself included, are people of passion. Our passion springs from a deep desire to improve the lives of those we love and the well-being of the overall disability community. Recently I provided a Christian organization I admire with information about a project to benefit caregiving families. They listened courteously but declined to participate.
Outwardly, I accepted their decision with equal courtesy, but inwardly I was fuming.
I thought nasty thoughts.
I railed against the unfairness of it all.
I contemplated cutting ties with the organization.
That would show them.
Show them what? whispered a small and powerful voice within. Show them Jesus?
Oh. Hm. That.
Chagrined, I asked God to exchange my divisive spirit for His unity and my destructive anger for His constructive love. Throughout the day, He answered my prayer with these 5 lessons for an overzealous disability advocates like me.
Lesson 1: Not every believer shares your passion.
Not because they don't care about the disability community, but because God has given them a different passion. The organization I approached is passionate about many worthy ministries. Because they are committed to funding and serving those ministries well, they had to say no to my cause.
Lesson 2: Sometimes we push too hard or too soon.
As disability advocates, we have personal connections in the disability community. We love individual people and know their stories of struggle and victory and faithfulness. When we forget the time we were given to develop connections and be integrated into the disability community, we can push others too hard or too soon. Instead we must learn to wait for God's timeline rather than pushing our own.
To read the rest of this post, visit the Irresistable Church blog at Joni & Friends.
Do you like what you see at DifferentDream.com? You can receive more great content by subscribing to the quarterly Different Dream newsletter and signing up for the daily RSS feed delivered to your email inbox. You can sign up for the first in the pop up box and the second at the bottom of this page.