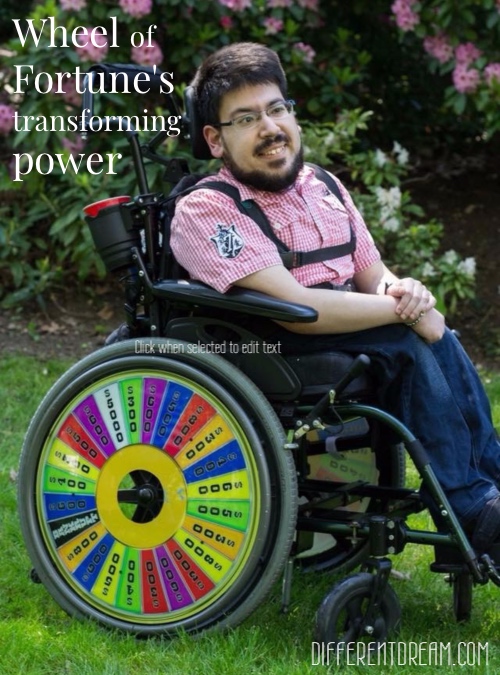 Wheel of Fortune transformed life in public for guest blogger Rachel Olstad and her family. Today she tells the amazing, delightful, and funny story of how it happened.
Our son has spina bifida and is a wheelchair user. You can probably guess how going to the mall or the grocery store goes for us. Lots of staring. People see someone who uses mobility equipment and has body features that don't fit the norm, and they stare.
A lot.
We tried teaching our son, Bryce, to wave and smile at the starers, but to no avail. All the gawking usually put me in a bad mindset, unfortunately. I'm not sure how Bryce feels about it, but it can't feel great.
Then one day we happened upon a web page with hundreds of cool wheel covers.* Out of all the choices, Bryce selected ones that looked like the wheel from the Wheel of Fortune game show. We were a little hesitant about his selection, because it was kind of over-the-top, in our opinion.
But, it was his chair and his choice.
Christmas Day the covers appeared under the tree. Bryce was thrilled with his new look. We spent most of the week at home, and I kind of forgot about his snazzy wheels. Then I decided to take Bryce to the mall while I made some returns. 
It was the weirdest thing.
People were staring. More than usual. What was going on? And they were smiling while they stared. And waving. And saying hi. What on earth? Then a big tatted motorcycle dude walked by and said, "Big money! Big money!"
I got it.
They were responding to his Wheel of Fortune wheel covers in a new and different way. It was as if they were seeing him as a real person who must have a great sense of humor to rock those wheels. We got quite a few thumbs ups and "Cool chairs" that day.
I went home in a great mood.
Bryce now responds to all the noticing and comments with a big smile and two thumbs up. Honestly, those silly wheel covers have changed our lives. It's amazing how something so simple can make such a profound change.
He now sports a Christmas wreath during December and an American flag on patriotic holidays.
He's got his eye on a cool frog wheel cover. Or maybe he'll create his own unique design. But take it from Bryce, if you are a wheelchair user and tired of all the stares, Wheel of Fortune might just be your jackpot!
*Bryce's treasured wheel covers were found at www.coolhubcaps.com. Another site across the pond with beautiful, artsy covers is www.izzywheels.com.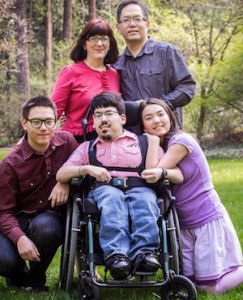 Rachel Olstad began her journey into the world of disabilities in 1990 when her oldest child was born with spina bifida and subsequently diagnosed with autism. She volunteers with Joni and Friends Southern Oregon, helping to meet the physical, emotional and spiritual needs of individuals and families affected by disability and encouraging churches to include all people. She was a contributing writer for both Special Needs Smart Pages and Nursery Smart Pages (Gospel Light), has been published in the Journal for Religion, Disabilities & Health, and was an assistant editor on Beyond Suffering: A Christian View on Disability Ministry. (Christian Institute on Disability)
Do you like what you see at DifferentDream.com? You can receive more great content by subscribing to the quarterly Different Dream newsletter and signing up for the daily RSS feed delivered to your email inbox. You can sign up for the first in the pop up box and the second at the bottom of this page.